Vinyl chloride was produced for the first time in 1835 by German chemist Justus von Liebig and French chemist Henri Victor Regnault. PVC was discovered accidentally the same year: a white solid appeared in bottles of vinyl chloride following exposure to sunlight.

However, it was not until 1926 that the American inventor Waldo Lonsbury Semon developed a method to make PVC more flexible by introducing additives.

Vinyl chloride is an extremely flammable, irritating gas, that is a known human carcinogen. It is also dangerous for the environment. It is very mobile in soil and is only biodegradable• in specific conditions. It is very soluble in water and can accumulate in groundwater•. PVC is an inert substance but its persistence in the environment is particularly problematic in terms of waste management (such as pollution by certain types of plastic bags).
A corrosive substance: acetic acid (C2H4O2)
Pure acetic acid is a colourless liquid with a sharp, pungent odour. Vinegar contains 3 to 8 % of this acid, yet its use extends far beyond the kitchen. It is used in the production of certain plastics and various pharmaceutical products. It is also used, for instance, in perfumes, photography and printing.

The vast majority of acetic acid produced today is synthesized from methanol and carbon monoxide. A small proportion is however obtained from ethanol by bacterial fermentation•. The use of biologicallyproduced acetic acid dates back to antiquity, but it was Arab alchemist Jabir Ibn Hayyan who, in the 18th century, managed to obtain a concentrated form by
distilling vinegar. It was not until 1847 that German chemist Hermann Kolbe first synthesized acetic acid.

At certain concentrations, acetic acid is a flammable product whose vapours can form explosive mixtures with air. It can cause burns when in contact with the skin or mucous membranes• (stomach, lungs). It has low bioaccumulation• potential and rapidly breaks down in water and soil.
A gas: chlorine (Cl2)
At room temperature, chlorine is a strong-smelling greenish yellow gas. It is used to purify water and bleach paper. It is contained in the composition of plastics, antiseptics, insecticides, paints, dyes and medicines.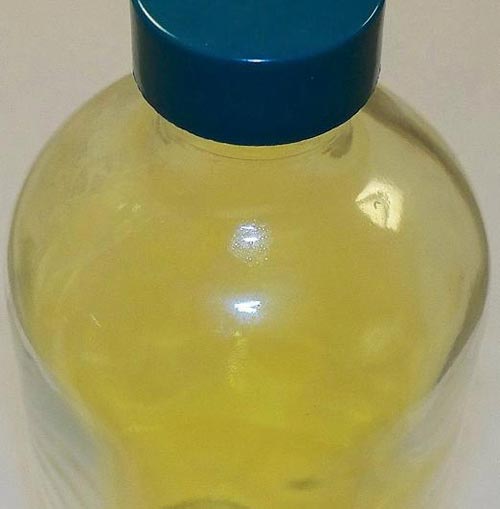 Chlorine gas
Chlorine was discovered in 1772 by Swedish chemist Carl Wilhelm Scheele. Like aluminum, it is produced by electrolysis from an aqueous solution of sodium chloride (table salt). During this process, the chlorine gradually accumulates at the anode, while a cluster of sodium forms at the cathode.

Chlorine is an oxidant, i.e. in the presence of flammable substances it may cause or exacerbate a fire.

In its gaseous state, it irritates the mucous membranes and respiratory system, and can even be fatal at high concentrations.

In an aqueous solution, it is corrosive and can cause burns when in contact with the skin. Chlorine can cause environmental damages at low concentrations.
It is particularly harmful for living organisms in the water and soil.