Penetration into the human body
Chemicals can enter the body in three different ways: via the skin and mucous membranes• (contact), the respiratory tract (inhalation) or the digestive system (ingestion).
The 3 ways chemicals can enter the body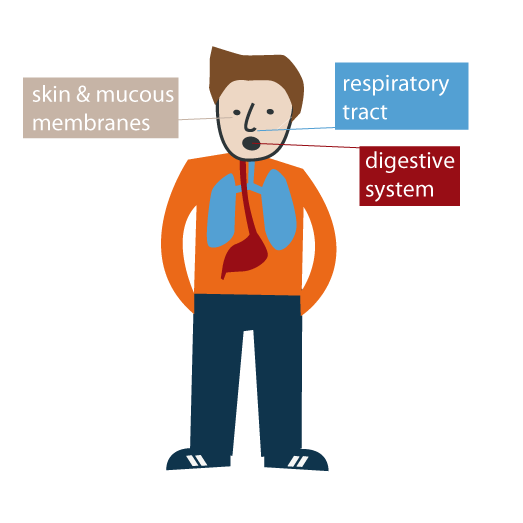 Did you know?
On average, in human beings, the total surface area of the skin is 2 m², that of the pulmonary alveoli is 130 m² and that of the intestines is 250 m² (equivalent to a tennis court).
Notion of toxicity
The toxicity of a substance is its capacity to generate noxious effects on health. Chemicals do not all have the same toxicity. Some must be absorbed in large quantities to cause intoxication while for others, small quantities are sufficient. Toxicity is closely linked to the quantity of the substance involved and the exposure time.
The term acute toxicity is used when noxious effects on health appear rapidly following sudden exposure to relatively high concentrations of a chemical. This may typically be the case of shipping accidents.
Inversely, the term chronic toxicity is used when noxious effects on health are caused by repeated exposure, day after day, for many years, to low concentrations of a chemical. This is what happened in the case of the Minamata tragedy in Japan.
Did you know?
In the 15th century, Paracelsus, a renowned Swiss doctor, wrote: "Poison is in everything, and no thing is without poison. The dosage makes it either a poison or a remedy."
Acute effects
In the case of acute intoxication, the effects may be restricted to a specific area or organ, or may affect the entire body.
Local effects are directly connected to the way in which the toxic product enters the body:
contact with skin or eyes: irritation, burns or allergies,
ingestion: irritation and/or burns to the oesophagus and stomach, nausea, vomiting.
Generalized effects can include severe cardiac, respiratory, and central nervous system conditions which can, in certain cases, lead to death.
Chronic effects
In the case of chronic intoxication, the effects often appear after several years, or even several dozen years.
Most of the time, this results in the development of severe, chronic pathologies.
Assessment of toxicity
The acute toxicity of a substance is quantified using a value known as the median lethal dose (LD50) which is the dose of a substance that will kill 50% of a given population (often mice or rats) in specific experimental conditions. It is expressed in milligrams of a substance per kilogram of animal body mass (mg/kg).