Containment, recovery and dispersion of floaters
The response equipment used for persistent floating products (vegetable oils and viscous chemicals) are inspired by those existing for oil pollution, but are preferably made of materials resistant to the chemicals in question.
Containment and recovery: when floating substances form a sufficiently thick and continuous slick, they can be contained by deploying floating booms then recovered using a skimmers• if the sea and weather conditions allow.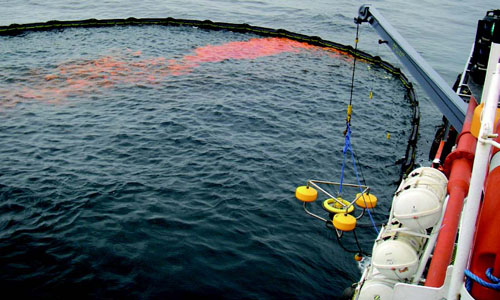 Containing palm oil with a boom and recovering with a skimmer
Dispersion: dispersants are products which speed up the natural dispersion of pollutants in the water column, by taking advantage of wave agitation. They help to fragment slicks into a multitude of microdroplets spread throughout the water column, which speeds up their breakdown and bioassimilation in the marine environment. Because of dispersants'
mode of action, their use is regulated. They should not, for instance, be used in areas where dilution levels are too low.

Trawling: if the pollutant is a paste, it can be recovered offshore using trawl nets• towed by a single or pair of vessels.
In 1997, the Allegra lost 900 tonnes of palm nut oil following a collision with a bulk carrier in the English Channel. The oil rapidly solidified to form a surface slick. Part of the oil was recovered offshore by trawling.

Sorbents: these products can be used in coastal or port areas on small-scale spills. They are solid materials used to retain floating substances by sorption, in order to facilitate their subsequent recovery.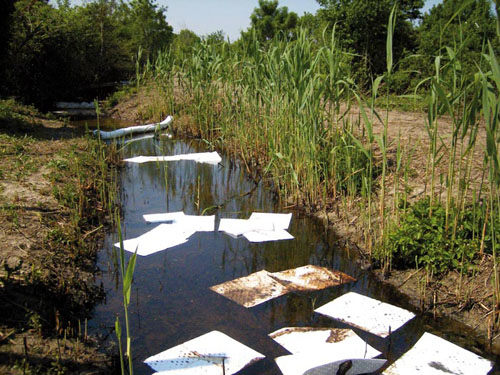 Sorbent pads
On land clean-up: when large quantities of vegetable oil agglomerates are washed up on difficult access sites (riprap•, pebble beaches), manual recovery is necessary. If the areas affected are sandy beaches, specialized equipment such as sand screeners• can be used.

When the oil on the shoreline is liquid, the area can be cleaned at low tide by flushing• with cold water. The effluent• is recovered and settled, before pumping off the oil.
Example of response in inland waters
Response operations are also conducted in the case of chemical spills in inland waters•. In 2008, a truck transporting 33.6 tonnes of concentrated phenol veered off the road and spilt part of its cargo into the Zhesang River (southern China). The pollutant quickly reached a dam located 15 km upstream of a water intake supplying drinking water to 200,000 people.

The local authorities banned over 1,000 households in the city of Yangyu from consuming the potentially polluted water supply. Response teams built makeshift dams to contain the pollution and spread lime and activated carbon• to capture as much pollutant as possible.