A statistical analysis of accidents occurring between 2005 and 2015 and resulting in a spill at sea shows that the most concerned types of HNS are:
- mineral oils which serve, for example, as lubricants;
- food products (molasses•, maize, rice and soya);
- acids (sulfuric acid•, phosphoric acid•);
- mineral fertilizers such as ammonium nitrate•;
- sulphur•;
- petrochemical products•(toluene•, benzene•)
- vegetable oils such as palm oil•.
Chemical spills from ships are often accompanied by oil pollution, caused by the ship's fuel.
In 2009, the ore carrier Gülser Ana was transporting 39,000 tonnes of phosphorite (iron ore) and 570 tonnes of heavy fuel oil when it grounded south of Madagascar. Shortly after it ran ashore, the ship broke in two and part of its cargo (phosphorite and heavy fuel oil) was released at sea in an important fishing area for the local population. Phosphorite can contain heavy metals which represented a contamination risk for the marine flora. The authorities therefore banned fishing in the area around the spill. Water and fish samples were analysed at Cedre and no contamination was detected.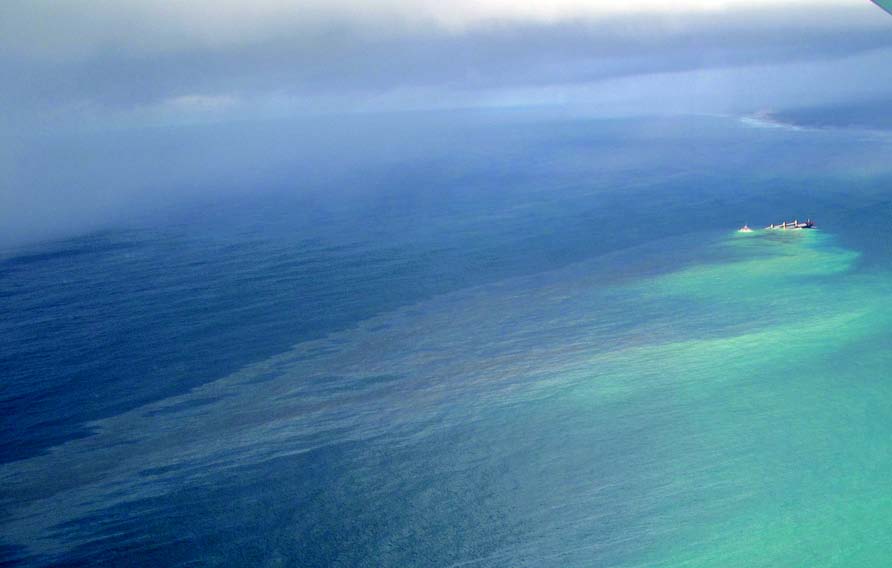 Grounding of the bulk carrier
Gülser Ana
(2009, Madagascar). Double spill: rock phosphate in white and oil in black