Gas transport
Vessels designed to transport liquefied gases are known as "gas carriers" or sometimes "LNG tankers". The capacities of these ships are variable and depend on the liquefaction• method. A refrigerated vessel can transport up to 267,000 m3 of liquid gas, while vessels with pressurized storage facilities have a maximum capacity of 10,000 m3 as their reinforced tanks are extremely heavy.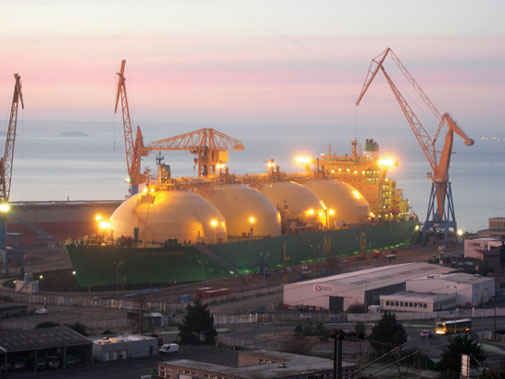 Gas carrier designed to transport refrigerated gas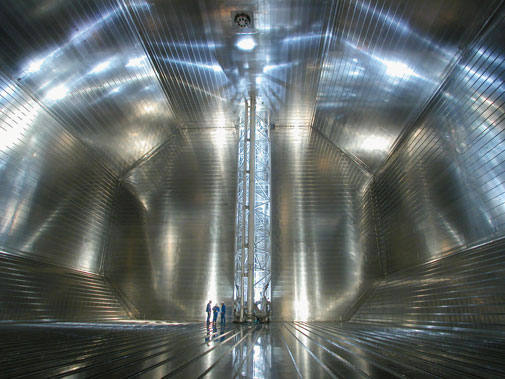 Inside the tank of a gas carrier
Gas carriers are frequently inspected due to the properties of their cargoes (flammability, volatility) and the transport conditions (low temperatures). They are equipped with sophisticated safety systems, for instance alarms linked up to atmosphere control systems to rapidly detect leaks.
Evolution over time of the number of vessels transporting liquefied natural gas worldwide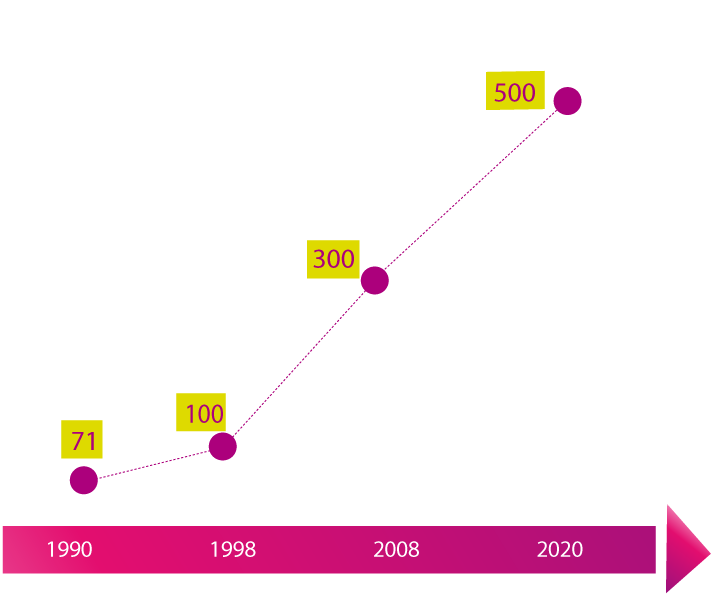 The number of vessels transporting liquefied natural gas has risen sharply over the past twenty years. This phenomenon is due to the growing demand for natural gas, although the world fleet of gas carriers remains low in comparison to other types of ships.
Bulk liquid transport
Bulk liquids, i.e. oil, chemicals and liquid food products, are transported by chemical tankers. These ships are designed to transport hazardous substances and are smaller in size than oil tankers. Their capacity ranges between 3,000 and 50,000 tonnes. Most chemical tankers have stainless steel tanks (with up to 40 of these tanks per ship) which are totally separate from one another, enabling simultaneous transport of different incompatible substances.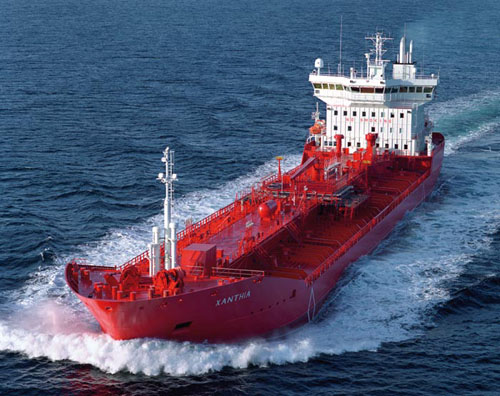 Chemical tanker
International regulations define the requirements in terms of ship design according to the hazard level, for humans and the environment, of the products transported. Type 1 ships are those designed for products considered to present the greatest overall hazard and type 2 and type 3 for progressively lesser hazards. Chemical tankers, like gas carriers, undergo frequent technical controls.
Bulk solid transport
Bulk solids, i.e. grain, coal, ore, etc., are transported by "bulk carriers" whose load capacity ranges between 35,000 and almost 400,000 tonnes. The main hazard with this type of vessel is damage to its structure either because of the severe stress exerted during loading and unloading operations, or because of extreme weather conditions.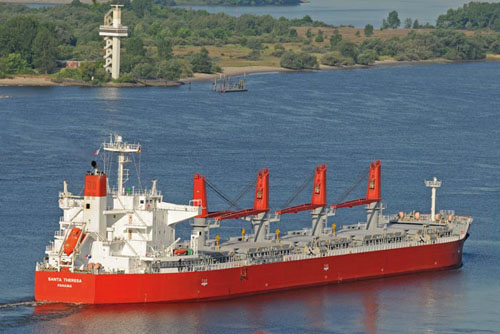 Bulk carrier
Container transport
The substances packaged and placed in containers are transported by container ships. Over the past years, the size and capacity of these ships has been relentlessly rising.

The capacity of container ships has more than tripled over the past 20 years, rising from 6,000 to more than 19,000 TEU (Twenty-foot Equivalent Units), and increasing in length from 300 to 400 m (equivalent to four football pitches placed end to end).
The world's largest container ships belong to the Mediterranean Shipping Company (MSC). In 2015, five of them were already sailing the world's oceans, including the MSC Oscar, specially designed to transport hazardous substances. This ship is 59 m wide, 400 m long and has a capacity of 19,224 TEUs.
Ships are continuing to reach increasingly gigantic dimensions. The 20,000 TEU mark is about to be hit by the Japanese firm Mitsui OSK Lines (MOL), which has ordered six 20,000 TEU container ships, to be delivered in 2017.
Did you know?
In 1956, American entrepreneur Malcom McLean had the brilliant idea of loading only the trailers and not the whole trucks onto ships. This is how the container was invented.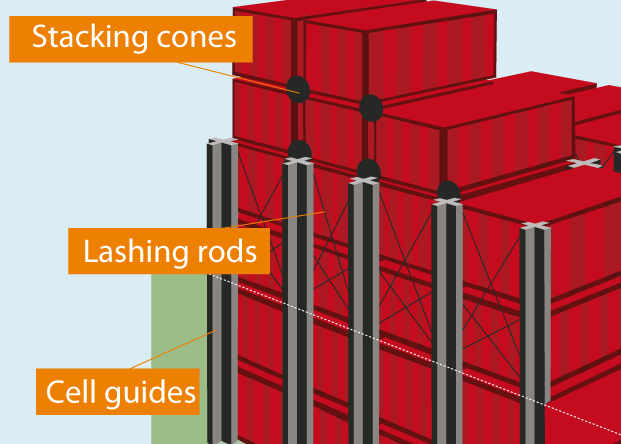 Arrangement of containers
In the hold•, containers are stacked on top of each other in cells, divided by guide rails fixed to the vessel's structure. On deck, the containers are held in place by semi-automatic twistlocks and lashing rods located at the base of each stack.

When loading ships, particular attention should be paid to containers carrying HNS. Such containers will be positioned far apart due to incompatibilities between substances. This is an important factor in the development of the container ship's stowage• plan.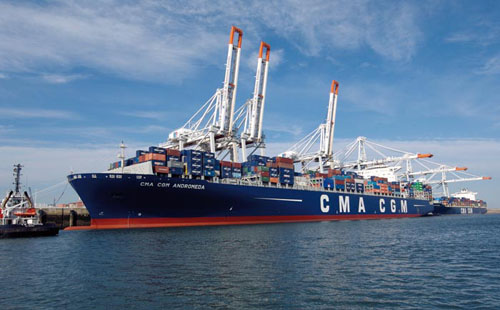 Ultra Large Container Vessel (ULCV)
The high capacity of these vessels constitutes both their strength and their weakness. Cargoes are sometimes loaded very high on the deck, causing stability problems for the vessel and its cargo. The structure also suffers severe stress, in particular in adverse weather conditions.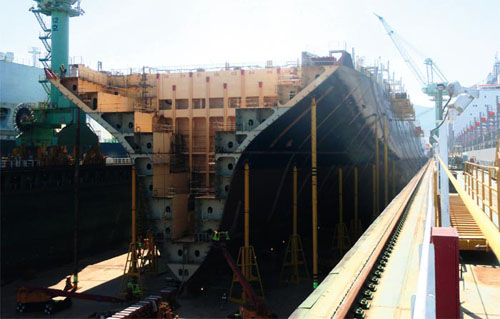 Container ship under construction
Containers and packages
The most common type of packages are drums• (steel, plastic, cardboard...), but bags, sacks, bottles and other forms of unit loads are also used. These packages are generally placed in metal boxes known as intermodal or shipping containers, which are internationally standardized:
twenty foot (6 m) long containers with a load capacity of around 20 tonnes,
forty foot (12 m) long containers with a load capacity of around 25 tonnes.
Specialized containers have been developed to meet specific needs, for instance, tank containers or refrigerated containers.

Find out more
The container ship stowage plan is drawn up by a person known as the ship-planner. Specialized software is used to virtually position the containers, taking into account their weight and the type and destination of their cargo. This plan is then approved by the ship's captain and applied by the terminal staff during loading and unloading.
The diagram opposite illustrates a cross-sectional view, or profile, of a container ship: a full stowage plan includes over 30 profiles. Each container is labelled with its number, destination and weight. The colours indicate specific containers, for instance red containers contain hazardous substances.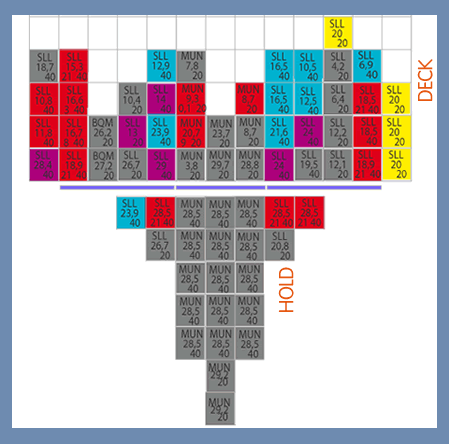 Past and predicted evolution of the number of container ships worldwide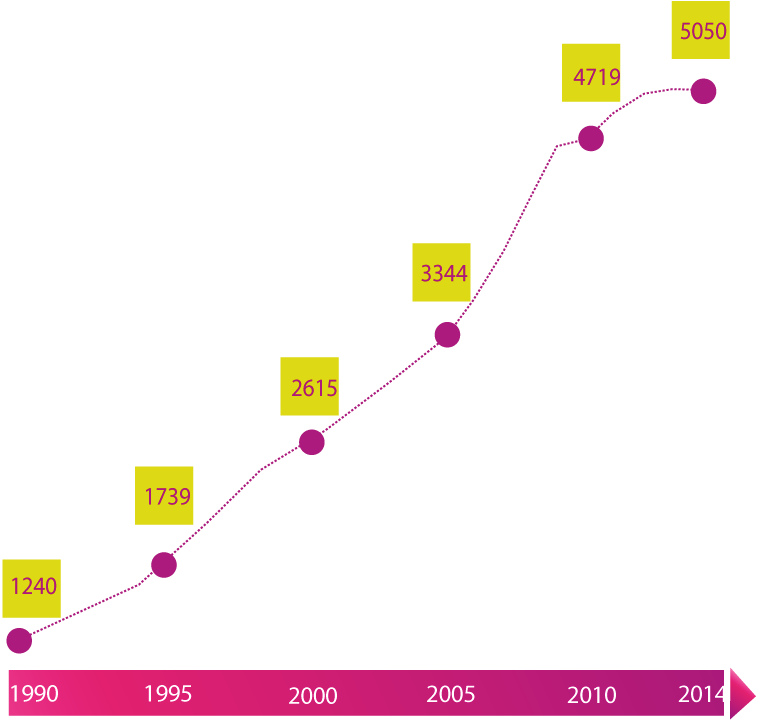 Occasional carriers
Other types of vessels may be required to transport HNS. This is the case of cargo ships• or vessels transporting
various goods which are able to handle bulk and/or packaged goods.
Mention should also be made of ferries, whose main purpose is to transport vehicles with their load and their passengers on sea crossings. Certain trucks or wagons loaded onboard these vessels may contain hazardous substances. This aspect is however subject to strict regulations. The quantities transported are limited and only moderately hazardous products are accepted.