Fate of chemicals
The behaviour of a chemical in the water heavily influences its fate in the marine environment over the days, months and years following its release. In most cases, a substance does not have one single behaviour but rather several behaviours.
Gases (G) and evaporators (E) disperse into the atmosphere.
Floaters (F) spread across the surface to form a slick. Then, under the action of waves and currents, they form aerosols or split up into smaller and smaller patches and/or form an emulsion with seawater (emulsification), or are sometimes even naturally dispersed. They can also undergo oxidation• when exposed to the sun's rays (photolysis).
Dissolvers (D) will be diluted in the water column•, leading to a drop in their concentration, therefore reducing their effects. They can then be broken down by sunlight (photolysis) or by micro-organisms (biodegradation). They can also sometimes cling onto organic or mineral particles in suspension (adsorption) or can gradually accumulate in living organisms (bioaccumulation•).
Sinkers(S) will initially settle on the bottom. They can then be buried by sediment movements or be returned to the water column (dissolution).
Bioaccumulation of mercury
Mercury• can be found in three forms: metallic, ionic and organic. It is most toxic in its organic form and accumulates throughout the food chain (see "Japanese tragedy in Minamata", p. 30). In polluted areas, when it is present in seawater, mercury is taken up by plankton. It is then found in the flesh of small carnivores that feed on this plankton then in large predators such as tuna. Humans, as the final consumers, end up consuming fish with a high mercury content.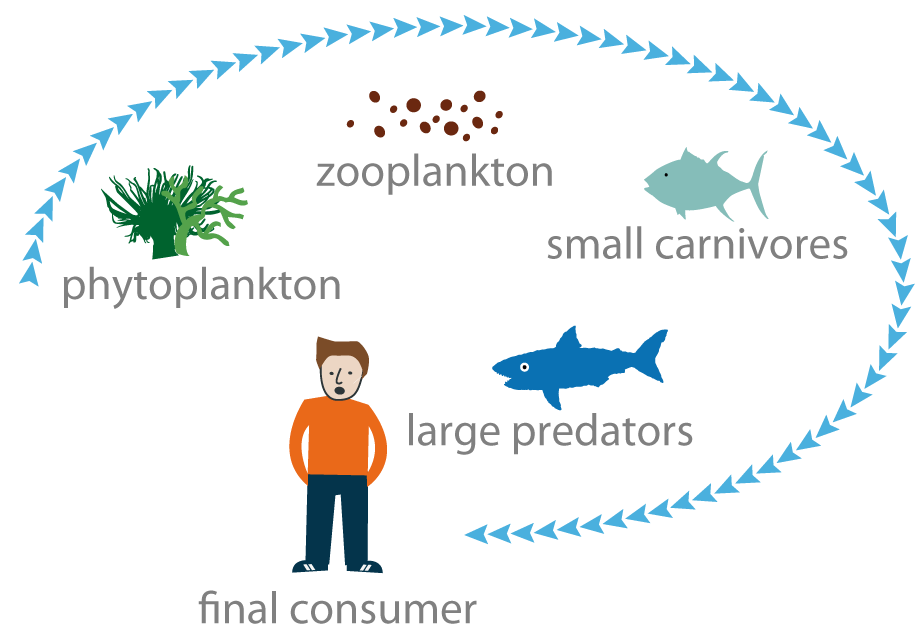 Effects of chemicals
The negative effects of chemicals on the environment are gathered under the term ecotoxicity. This may be direct or indirect.
Direct ecotoxicity can result in:
lethal effects

, i.e. mortality of individuals due to interruption to one or more vital bodily functions,

sublethal effects

which involve a decrease of certain capacities of individuals (reproduction, breathing, feeding). These effects seriously compromise the survival of a population. This is typically the case of marine pollution by tributyltin• which leads to the masculinization of dog whelks,