Vessel crews and response teams must have access to Personal Protective Equipment (PPE) stockpiles. The content and size of these stockpiles is closely linked to the type and quantity of substances handled or liable to be handled.

Marine response PPE comprises protective clothing, either single-use or reusable, often combined with respiratory protection. In addition, different accessories may prove essential to ensure optimal operator protection: gloves, boots, goggles, helmet and ear protectors. The materials of which they are made will vary according to the substances to which they must be resistant and the circumstances surrounding the incident.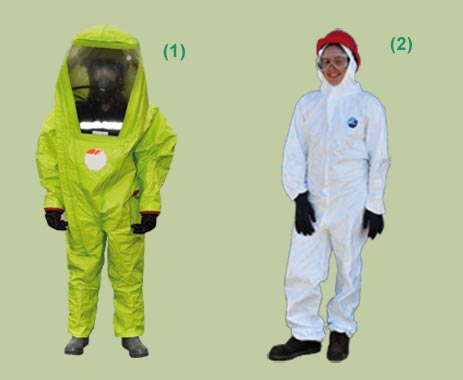 (1) Type 1 protection (level A)
(2) Type 6 protection (level D)
Protective clothing
European standards define six types of clothing (ranked from 1 to 6) according to their level of protection. Canada and the United States, on the other hand, have their own classification which combines both protective clothing and breathing
apparatus (ranked from A to D). There is no direct correlation between the two standards but some equivalences can be drawn. For instance, an American level B is comparable with a European type 3.
Respiratory protection
Air-purifying respirators (APR) are composed of an air-tight mask and a cartridge that contains a filter suitable for one or more gases. They are compact and light, but are specific to a given substance.

Self-contained breathing apparatus (SCBA) are bulkier than APR. They are used to work in an asphyxiating atmosphere as those wearing them breathe the compressed air container in the bottle.
Did you know?
Self-contained breathing apparatus (SCBA) provides a service time of 20 to 45 minutes according to the type of response operations and the equipment used.
Description of PPE types
European system
Type 1
Protects against liquid and gaseous chemicals. Gas-tight.
Type 2
Protects against liquid and gaseous chemicals. Non-gas-tight.
Type 3
Protects against liquid chemicals. Liquid-tight.
Type 4
Protects against liquid chemicals. Spray-tight.
Type 5
Protects against solid particulates.
Type 6
Splash-tight.
North American system
Type A
Maximum respiratory and skin protection.
Type B
Maximum respiratory and moderate skin protection.
Type C
Minimal respiratory and skin protection.
Type D
No respiratory and minimum skin protection.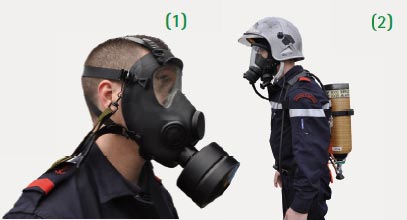 (1) Air-purifying respirator (APR)
(2) Self-contained breathing apparatus (SCBA)
Preparedness resources
The International Maritime Organization (IMO) has developed a wide range of tools, including standard training courses,
manuals and guidance documents to help countries to develop their capacity to deal with incidents involving hazardous and
noxious substances (HNS). Member States can also request assistance from IMO, through its Integrated Technical Co-operation Programme, in order to satisfy their obligations and implement the provisions of the Protocol on Preparedness, Response and Co-operation to Pollution Incidents by Hazardous and Noxious Substances, 2000 (OPRC-HNS Protocol).
Last update: 07/12/2016